Our last production – Hamlet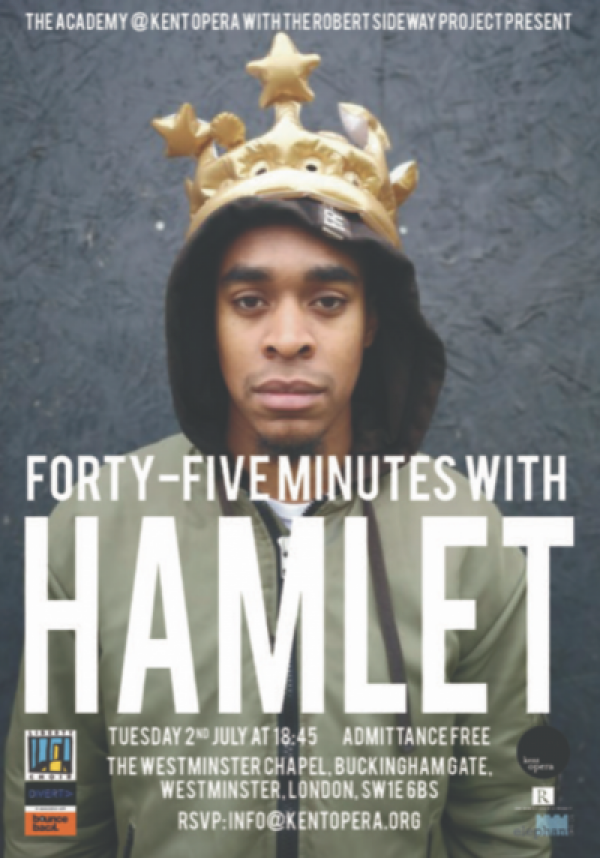 Kent Opera's high-energy Hamlet, "a 45-minute roller-coaster".
Kent Opera's Hamlet was a dynamic piece of physical theatre at the Westminster Chapel which included mime and clowning as well as iconic text from Shakespeare's play. The famous words from the play were set to music by one of our participants and all cast members took on Hamlet at some point in his journey.  Director Kate Littlewood believes that ensemble work of this kind is the best way to teach the fundamental skills of performance. The stripped-back, physical theatre elements enabled them to include all the skills of the cast and to invite all audiences in.
Shakespeare's work speaks to everyone, Kate believes, "if we can open it up" and can inspire new ways of looking at life. These great plays 'for all time', often leave us with a sense of the chance of new beginnings and new perspectives. The stories themselves have great narrative energy and this structure provides essential forward movement and the focus of a clear, shared goal in the rehearsal room. Hamlet seemed a promising choice because it considers eternal and challenging themes such as guilt, revenge and violence.
A core team of four actors and a dancer/choreographer, all of whom have a wide experience of performing Shakespeare to young and uninitiated audiences, rehearsed with Kate before the workshop began. This enabled them to rehearse a variety of approaches and shape it in a way to ease in those without experience.
Many of our rehearsals took place at Bounce Back community space in Victoria in preparation for the main performance at nearby Westminster Chapel. The enthusiasm and encouragement the team received from the staff and trainees at Bounceback became a significant part of the company's energy and spirit.